Madrid travel guide
Monuments and culture - interesting information about the most famous places in Madrid such as the Royal Palace, Prado, Retiro, Puerta del Sol,...
Accommodation - advice on where to stay, whether you are interested in the most luxurious accommodation or cheap hostels, or perhaps close to the airport.
Food and drink - what you should try in Madrid - cocido madrileño, porras, sangria, tinto de verano
Practical advice - what to enjoy in Madrid, what to watch out for, events and festivals,...
Famous people - famous writers and artists connected with Madrid.
Weather - weather and climate in Madrid, when is the best time to visit the city...
AI poem - and what did artificial intelligence come up with about the capital of Spain?

Madrid, the capital of Spain, is located in the central part of the country. Madrid, the largest city in Spain and the fifth largest in the European Union, represents the political, economic and cultural center of the country.
The city of Madrid has a rich history that dates back to the pre-Roman era. During the Middle Ages, Muslims ruled here, but in 1083 it was conquered by Christian troops and became part of the Kingdom of Castile.
Madrid is known for its architecture, artistic treasures and rich cultural scene. Among the most famous sights are the Royal Palace, which serves as the official residence of the Spanish royal family, and the famous Prado Museum, which is home to important works of art from Spanish masters such as Goya, Velázquez, El Greco and others. Since Madrid was the residence of the king, we find a lot of exhibition palaces here, because important nobles always wanted to be close to the king.
Madrid is also famous for its parks and green spaces. The most famous park is El Retiro, which offers a beautiful garden, lakes and monuments such as the Palacio de Cristal. Not only tourists but also local residents like to come here.
Madrid is also known for its nightlife. You will find many bars, restaurants, clubs and theaters that stay open late into the night. This lively and energetic atmosphere contributes to Madrid's reputation as one of the liveliest cities in Europe.
In addition, Madrid is also an important center of trade, finance, science and technology. Many international companies, research institutions and universities are located here. The city also hosts major sport events. It is home to the Real Madrid football club, one of the most successful clubs in the world.
Madrid has a continental Mediterranean climate with hot summers and mild winters. Temperatures can be around 30 °C in summer and around 10 °C in winter.
All in all, Madrid is a vibrant and fascinating city that offers a wide range of experiences and attractions to its visitors.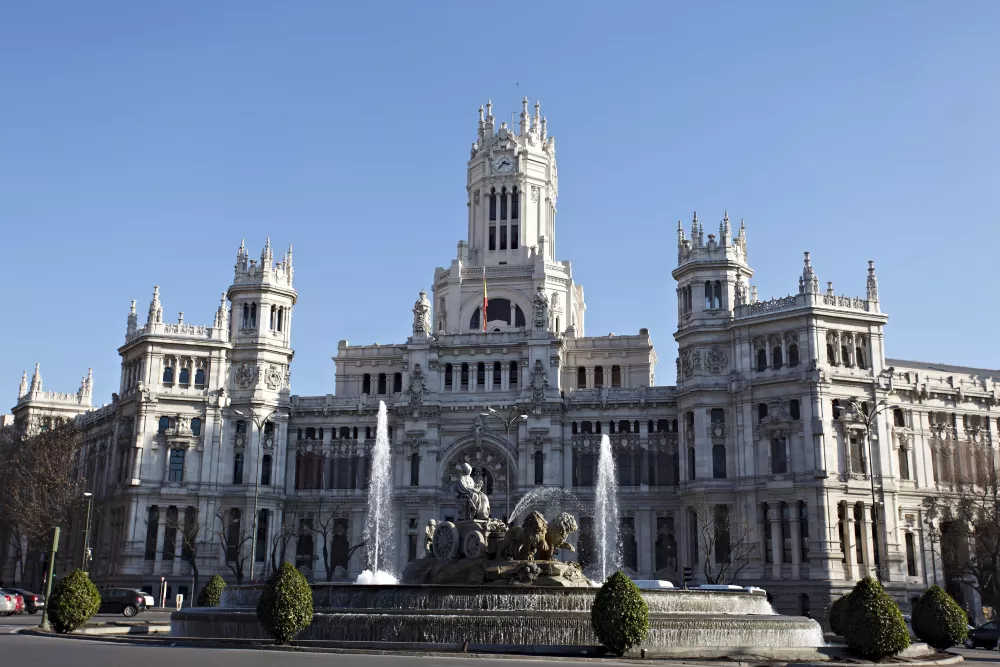 Royal Palace (Palacio Real) - the official residence of the Spanish royal family. With more than 3,000 rooms, this impressive palace features magnificent architecture, extensive gardens and richly decorated interiors. They also keep valuable historical and artistic collections here. You can visit the cathedral right next door.
Almudena Cathedral (Santa María la Real de La Almudena) - the main cathedral in Madrid, which combines different architectural styles. The construction of the cathedral took more than a hundred years and was completed only in 1993, when it was solemnly consecrated by Pope John Paul II. Inside the cathedral you will find an impressive altar, frescoes and other works of art.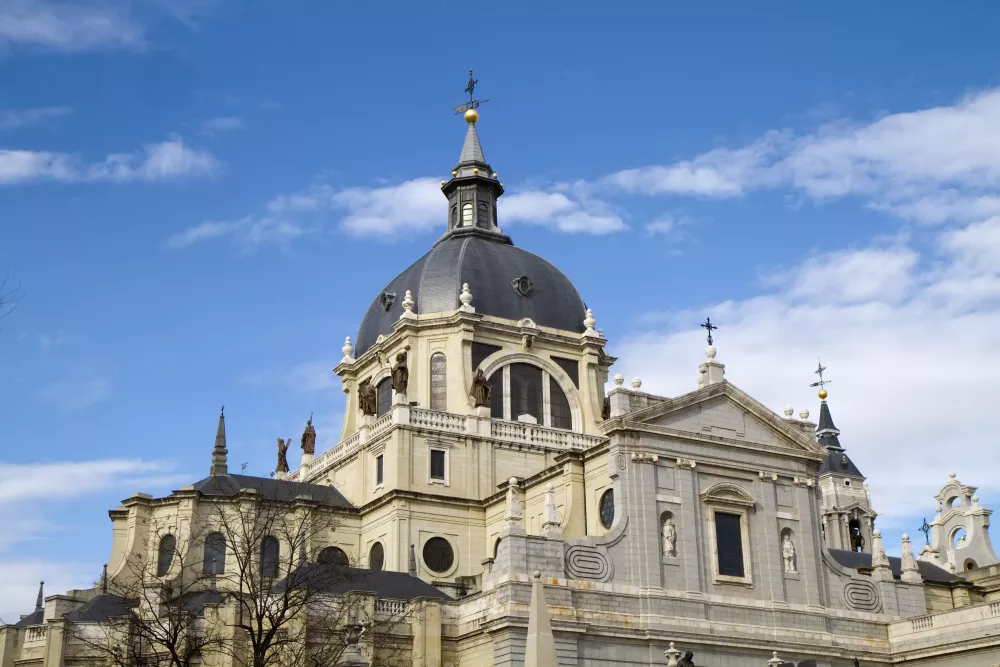 Prado Museum (Museo del Prado) - one of the most prestigious museums in the world and home to many important works of art. The Prado is especially famous for the works of Spanish masters such as Velázquez, Goya or El Greco. But you can also find works by artists from other countries here.
El Retiro Park (Parque del Buen Retiro) - a vast park, an ideal place for rest and relaxation. It offers beautiful gardens, lakes, fountains and interesting buildings such as the Palacio de Cristal (Glass Palace). The park is very popular for walks, picnics and various cultural events.
Puerta del Sol - the city center, one of the most famous squares in Madrid. In addition to many historical buildings and important monuments, you will also find the symbol of the city - a statue of a bear eating the fruits of a strawberry tree. They celebrate the New Year in a big way here and you can also find a odometer of Spanish roads here.
Plaza Mayor (main square) – square in the historic center of Madrid. It is located a short distance from the Puerta del Sol square. It has a rectangular shape and is surrounded by 3-storey residential houses, painted red. The square is dominated by the equestrian statue of Philip III. Various events, markets and festivals are held here, locals and tourists alike come here to browse.
San Miguel market – a well-known marketplace, a short distance from the Plaza Mayor. At this market with more than a century of tradition, you can buy local specialties, traditional Spanish dishes and fresh ingredients for cooking.
Templo de Debod - ancient Egyptian temple. They built it in Lower Nubia (today's Egypt) on the banks of the Nile in the 2nd century BC. The temple was then moved to Madrid as a gift from the Egyptian government in 1968 and as a thank you for helping to preserve Egypt's archaeological sites after the construction of the Aswan Dam. The Templo de Debod is the only Egyptian temple outside of Egypt. The best view of Templo de Debod is at sunset, when the temple is lit up and creates a picturesque backdrop for photos.
Santiago Bernabéu Stadium - the home stadium of the Real Madrid football club, opened in 1947. For football fans, a visit to this stadium is a unique experience. They can see the club's museum, walk around the pitch and admire the famous trophies.
These are just some of the many sights in Madrid. The city offers a rich cultural heritage and architecture to satisfy the interests of various visitors.
Visitors to Madrid can choose from over 5,000 different accommodation options! From the cheapest in student dormitories, in a capsule hotel or hostel, in apartments, guest houses to luxury resorts or five-star hotels.
Among the most luxurious are Mandarin Oriental, Ritz Madrid, which offers both rooms and apartments. You can enjoy the wellness here or park your car for free. The hotel is located in a Belle Epoque palace and the best chefs cook in its restaurants. The hotel is located in the Retiro district, a short walk from the Prado Museum.
If you want to feel like you are in a fairy tale, you can book a room at Catalonia Puerta del Sol, a 4* hotel right next to the main square Puerta del Sol, located in a beautiful historic building from the 18th century.
If you are looking for pleasant and not too expensive accommodation between the center and Barajas airport, for example after a late arrival, check out UVE Marcenado - their reception is open 24/7 and offers the possibility of contactless check in and check out.
If you are looking for affordable standard accommodation right in the city center, you can book, for example, B&B HOTEL Madrid Centro Puerta del Sol - the reception is open all the time, air-conditioned rooms, free Wi-Fi. What else could you wish for?
If you prefer apartments with their own kitchen, MH Apartments Central Madrid is located in the center, in a district full of bars and restaurants. All major sights can be reached on foot.
Young travelers looking for budget accommodation might like The Central House Madrid Lavapiés - in addition to shared rooms, it also offers private rooms with private bathrooms. You can relax on the sun terrace. The hostel offers its guests social events such as walks around the neighborhood or evening movie screenings.
For a complete offer of accommodation in Madrid, we recommend using A-HOTEL.com. You can also use Booking.com offer for Madrid.
Cocido Madrileño (Madrid boiled) - a thick and tasty dish, a traditional Madrid dish. It is a type of stew that contains pork, chicken, beef, vegetables, chickpeas and noodles. Cocido Madrileño is often served in three stages: first the broth, then the meat with vegetables, and finally the chickpeas and noodles.
Tapas - small portions of food that are served as snacks. Tapas can be found all over Spain. In Madrid, the tradition of "tapeo" is very popular, which means going to bars and tasting different tapas. Popular tapas include patatas bravas (potato pieces with spicy sauce or mayonnaise), tortilla española (potato omelette), jamón ibérico (Iberian ham) or boquerones (sardines).
Bocadillo de Calamares - a popular calamari sandwich. Cuttlefish cut into rounds is fried in batter and served in a crispy baguette. This dish is particularly popular with local residents and is often associated with a visit to traditional markets.
Porras - and a sweet spot at the end. This larger version of churros – deep-fried sweet sticks – is made with a donut-like dough. It is dipped in hot chocolate or nibbled with coffee.
Sangría - a popular mixed drink made from red wine and fruit, possibly with other ingredients such as brandy or juice. This refreshing drink is drunk mainly in the summer months.
Tinto de Verano - another popular summer drink, very simple and refreshing. It consists of red wine and a sparkling lemon or lime drink.
Clara - lemon lemonade is mixed with beer instead of wine and thus we get another refreshing drink that goes well with practically everything.
Horchata – this time a non-alcoholic traditional Spanish drink. It is made from ground pumpkin seeds, sugar and cinnamon. It is a sweet and refreshing drink that is often drunk on hot summer days in the form of ice chips.
Public transport in Madrid works well, including the metro, buses and trains. It is recommended to use public transport as parking in the city center can be difficult.
Don't forget the Spanish siesta. Check the opening times of monuments, museums and other tourist attractions you want to visit. Some of them may have limited hours or be closed on certain days of the week. Banks, pharmacies and the like close after lunch for about 3 hours.
Madrid is famous for its tapas culture. Do not forget to taste local specialties and try different tapas bars, where you can taste Spanish delicacies and get to know the authentic atmosphere of the city.
Madrid is also alive at night. The best way to get to know it is in the Malasaña or Chueca district, where you will find a lot of bars, clubs and restaurants with different music styles and atmosphere. For example, in the Plaza Mayor, locals with small children go shopping until midnight.
Find out if there are any special events or festivals taking place in Madrid at the time of your visit, such as San Isidro or Madrid Pride.
Gran Vía is one of the most famous European streets. It will certainly please lovers of shopping and the hustle and bustle of the big city. Gran Via connects Plaza de España and Calle de Alcalá. Here you will find everything you are in the mood for: from restaurants, to theaters, cinemas, shopping centers...
Madrid is located in the middle of Spain, so it has an inland climate. Summers are therefore warmer and winters colder than in coastal areas. It rains the most at the turn of autumn and winter (in November and December), and the least in the summer months.
In summer you can expect temperatures in the range of 30 - 40 °C, at night temperatures will drop slightly below 20 °C. In winter, you will have to dress properly, because at night it can be around 0 °C, during the day when the sun comes out you can see even 10 °C, but it is not every day.
The most favorable conditions for an active tourist in Madrid are in April and October. Moderate temperatures (20-25 °C) during the day, then cooler at night (5-10 °C).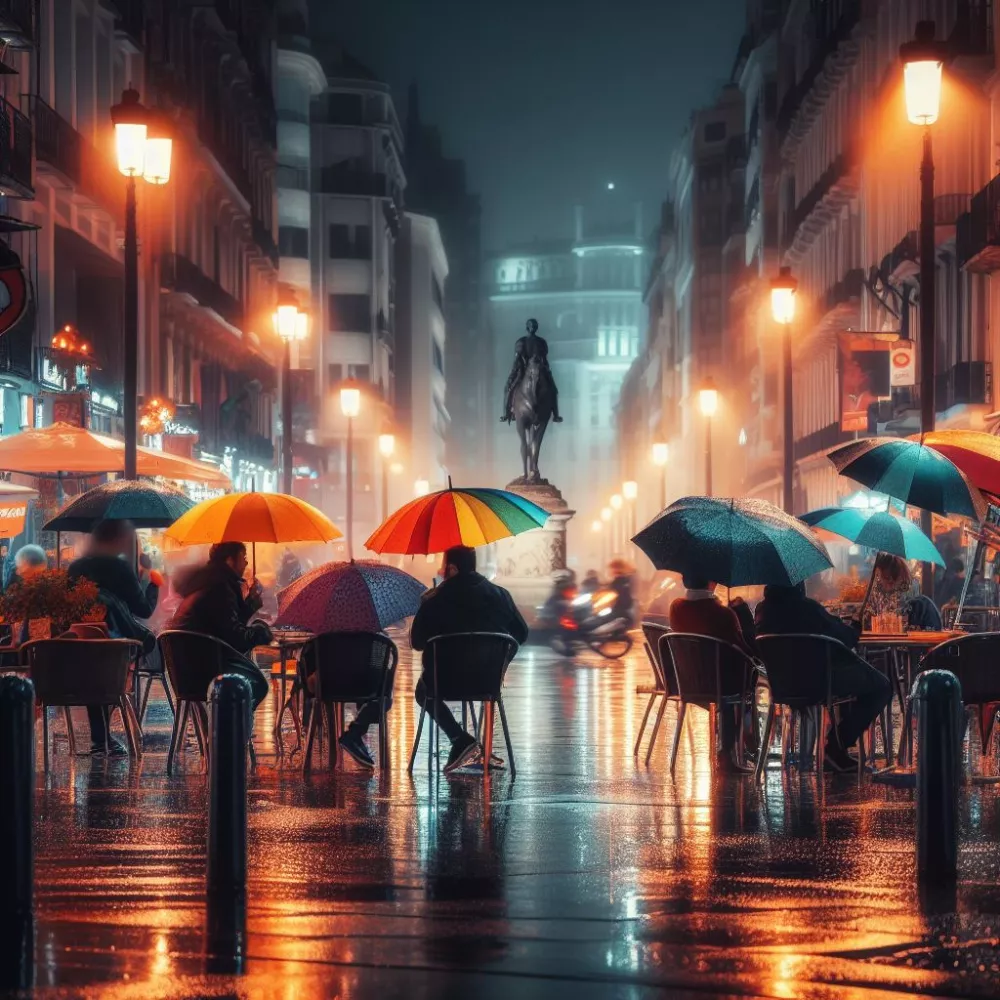 Francisco Goya (1766 - 1828) - famous Spanish painter and graphic artist. He is considered one of the most important artists in history. He spent a large part of his life in Madrid and his works can be found in the Prado Museum.
Miguel de Cervantes (1547 – 1616) - famous Spanish writer. He was made famous by the work of Don Quixote de la Mancha. Cervantes was born near Madrid and the city is often associated with his literary heritage.
Salvador Dalí (1904 – 1989) - famous Spanish surrealist painter. Salvador Dalí was born in the city of Figueres, but often visited Madrid. His works are exhibited in various galleries and museums here.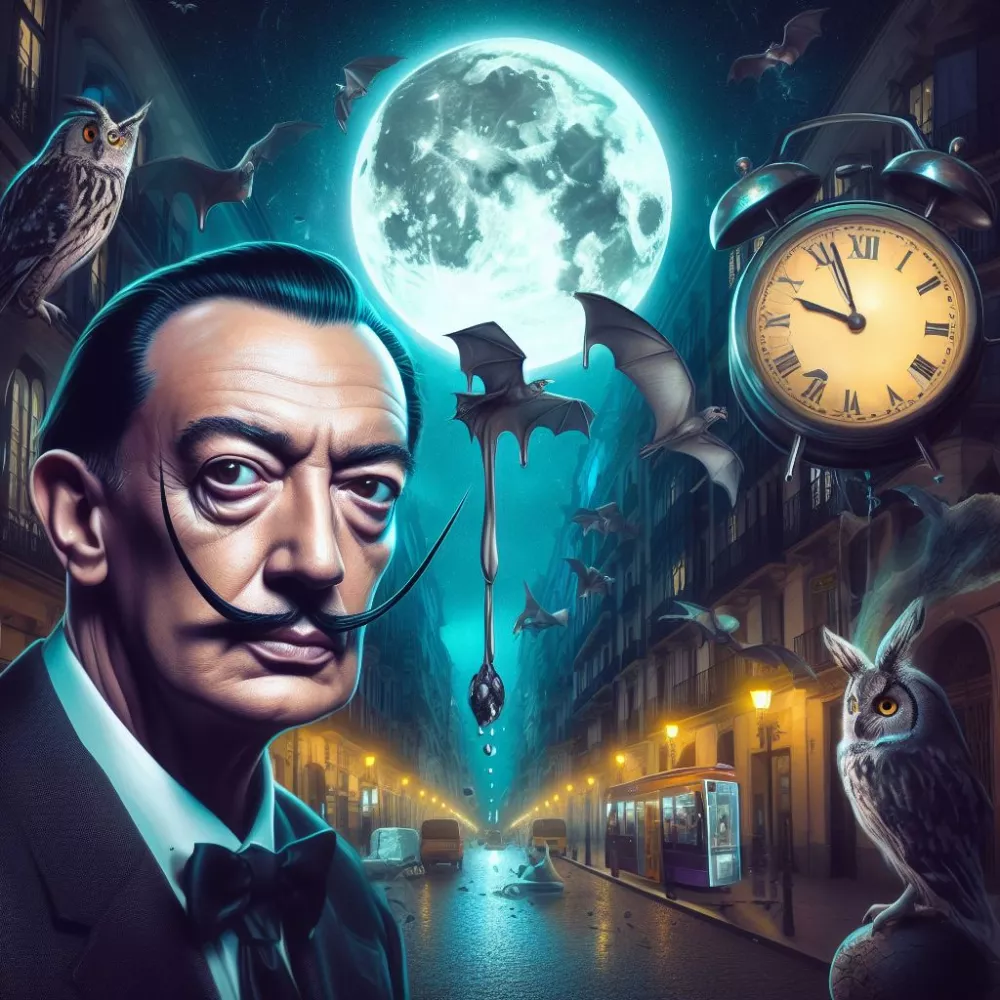 Penélope Cruz (1974) - famous Spanish actress. She gained international recognition for her roles in films such as Volver, Vicky Cristina Barcelona and others. Born and raised in Madrid, Penélope Cruz is one of Spain's most famous movie stars.
Plácido Domingo (1941) – one of the most famous opera singers in the world. He was born in Madrid and gained an international reputation for his performances on the most prestigious opera stages. He was also a distinguished conductor and music director.
In Madrid, the city of sun and passion,
Where history meets modernity
Where traces of the past lead deep
Hello, Madrid, I'm having a great time here.

Your architecture, charming and graceful,
It alternates between modern and historical,
Palaces proudly raised as they rise to the sky,
And streets bursting with life.

Puerta del Sol, the heart of the city beats here,
It intoxicates with its charm and bustling traffic,
Plaza Mayor, where thousands of steps meet,
Let the magic here remain in the memories.

Museums with artistic treasures abound,
Prado, Reina Sofia, Thyssen-Bornemisza,
The works of the masters provoke and inspire,
In Madrid, art forms an infinite breadth.

The streets are filled with the smell of tapas and sangria,
Tastes and aromas that seduce the tongue,
Madrid nightlife never sleeps
Flamenco is danced, the sun never sets here.

At the Bernabéu football stadium,
Real Madrid reigns as king over all,
Excitement, passion, glory and victory,
The fans are singing, their joy is soaring.

And yet, Madrid, I still know so much
I don't know your secret and magic right away
Your streets tell many stories
About love, memories, hope, freedom.

So I salute you, Madrid, be the city of the sun,
I will praise your beauty with my song,
You are the heritage of the past and the desire of the future,
Madrid, in the heart of your charm I will taste the taste.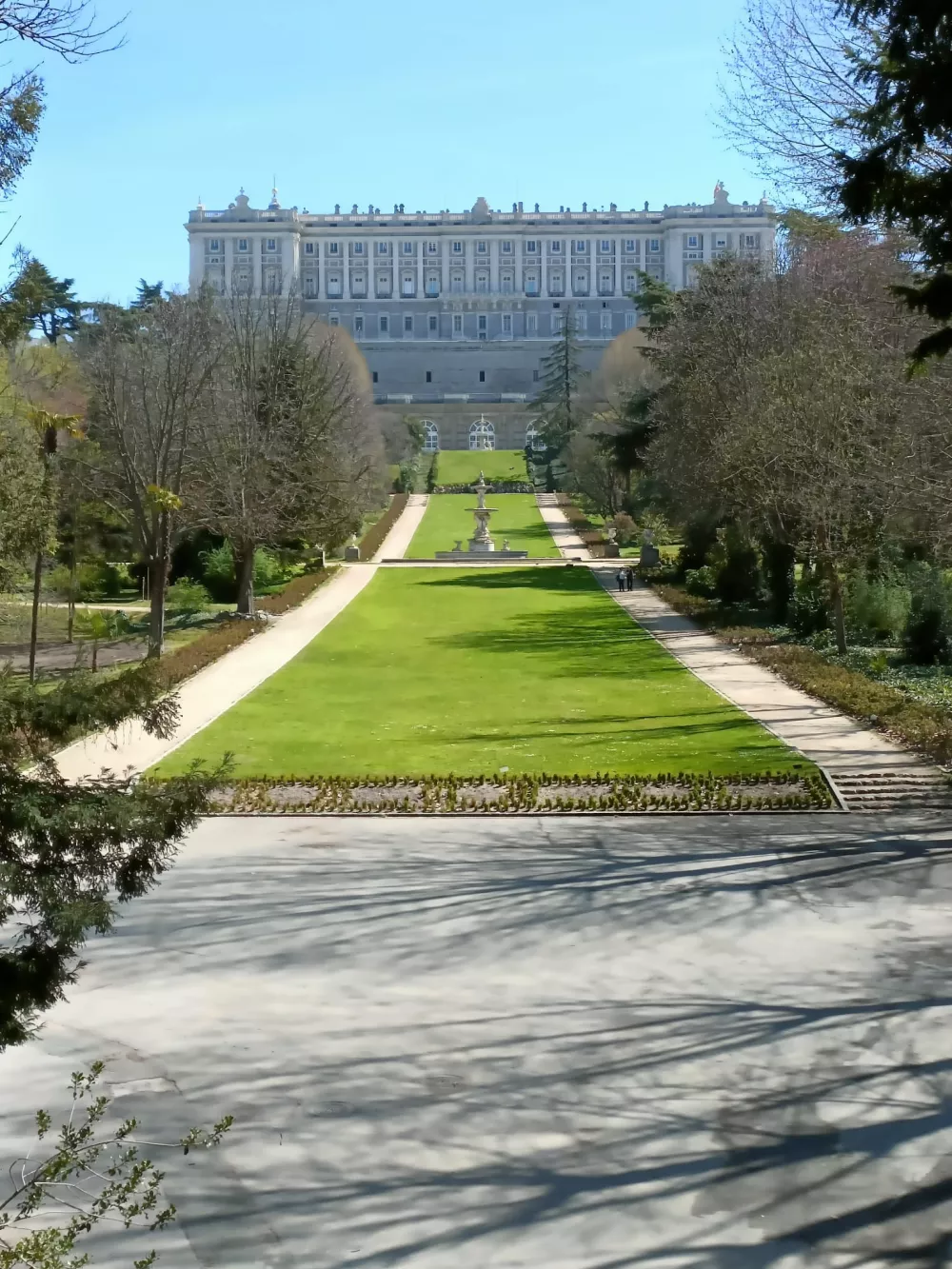 For a complete offer of accommodation in Madrid, we recommend using A-HOTEL.com. You can also use Booking.com offer for Madrid.