Malaga travel guide
Monuments and culture - which places you should visit in Málaga - Alcazaba, Gibralfaro, Teatro Romano,...
Accommodation - tips on where to stay in Malaga from a luxury hotel to a student dormitory.
Food and drink - what is pescaito frio, espetos, tapas or vino de Malaga? You will learn about this in our article.
Practical advice - what to visit in Málaga and its surroundings - historic center, Pablo Picasso Museum, Ronda,...
Famous people - famous artists, actors, writers, poets associated with Malaga.
Weather - when to enjoy Malta, weather and climate, sea and air temperature,...
AI poem - what the artificial intelligence wrote about Malaga.
Malaga is located in the south of Spain on the Costa del Sol by the Mediterranean Sea. It is the second largest city in Andalusia and the sixth largest in all of Spain. Thanks to its rich history, beautiful beaches and rich cultural scene, it has become a popular tourist destination.

Malaga has a long history dating back to Phoenician and Roman times. It was also heavily influenced by Moorish culture. The most famous historical monuments in the city are the Alcazaba, an ancient Moorish fortress, and the Gibralfaro, a castle standing on the hill above the Alcazaba.

The city is famous for its beautiful beaches. Among the most popular is La Malagueta, which is located not far from the city center. Local beaches are used not only for relaxing and sunbathing, but also for practicing various water sports.

The famous painter Pablo Picasso was born in Malaga. That is why you will find the Picasso Museum here, which houses a collection of his works. The city also has a number of other galleries, museums and historical monuments.

Andalusia is known for its excellent cuisine and Malaga is no exception. Local restaurants offer traditional tapas, fresh fish and other delicacies.

The city has a well-developed transport infrastructure. In addition to public transport, you can also use cycle paths and sidewalks.

In Málaga you will also find several important religious monuments, such as the Cathedral of the Assumption of the Virgin Mary, known for its mixture of Gothic, Renaissance and Baroque architecture.

There are many festivals and celebrations throughout the year that reflect the city's cultural richness. For example, in February you can enjoy a traditional carnival in Malaga, full of music, dance and colorful costumes.

Malaga is one of the most popular destinations for tourists looking for a combination of sunny beaches, cultural heritage and a lively atmosphere.
Alcazaba - The Alcazaba fortress and palace were built in the 11th century during Moorish rule. It ranks among the best-preserved examples of Moorish architecture in Spain. The Alcazaba offers a stunning view of the city and the Mediterranean Sea.
Gibralfaro - this military fortress can be found on the hill above the Alcazaba, with which it is connected by a fortified corridor. Gibralfaro was built in the 14th century to strengthen the original fortress. From the top of the hill you will once again enjoy a breathtaking view of the city.
Cathedral of the Assumption of the Virgin Mary (La Manquita) - the impressive La Manquita Cathedral is the dominant feature of Malaga and one of the most important cathedrals in Spain. It is famous for its incomplete south tower, which earned it the nickname "La Manquita" (without a hand).
Teatro Romano - this Roman amphitheater dates back to the 1st century. They rediscovered it in 1951. Today, they organize various cultural events for the public here.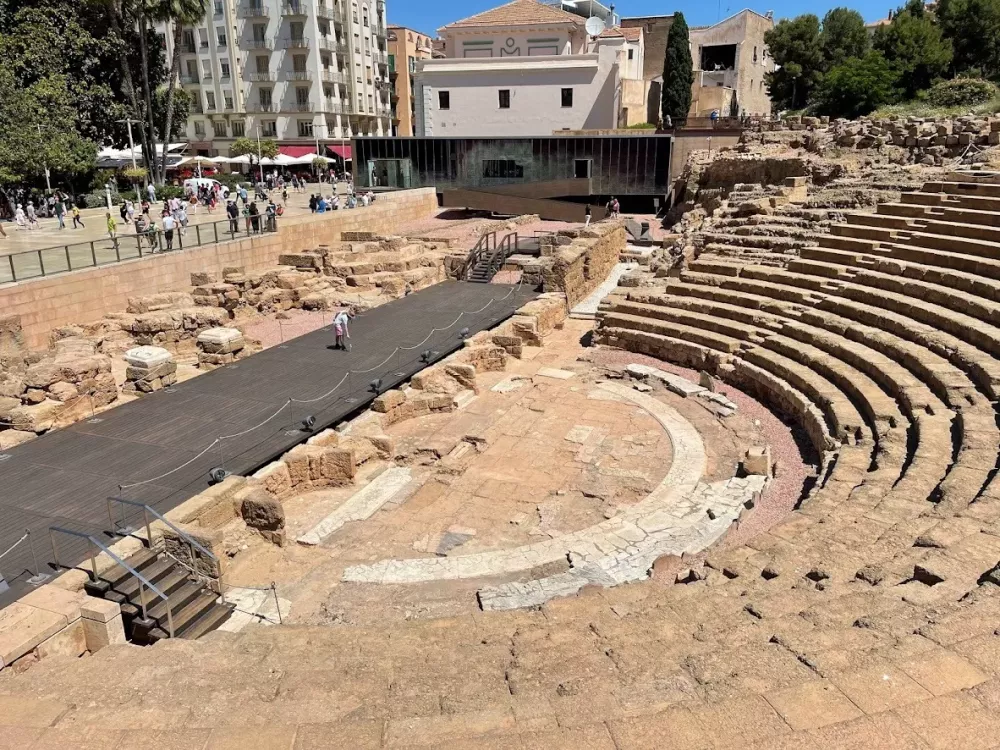 Plaza de la Merced – Malaga's central square, surrounded by cafes, restaurants and historic buildings. You will also find the birthplace of Pablo Picasso here, which you can visit for a small fee.
Picasso museum - the famous painter Pablo Picasso was born here, so it's no wonder that Malaga has a Picasso Museum with an extensive collection of his works and artefacts.
Centro de Arte Contemporáneo (CAC) - if you like modern art, visit this museum that focuses on contemporary art and hosts exhibitions by various artists.
Muelle uno – lovers of modern art will also be delighted by this modern promenade completed only in 2011. Here you can enjoy views of the harbor or shop in some of the nearly 80 shops.
Playa de Malaguetta - the main city beach. One of the most beautiful and famous sandy beaches in all of Spain will surely tempt you during sunny summer days. Thanks to the gradual entry into the water, it is also suitable for small children.
The sunny south of Spain, beautiful beaches, historical monuments... all this predisposes Malaga to a popular tourist resort. That is why you will find almost 5,000 different accommodation capacities here. You can stay right next to the beach or, on the contrary, in the historic center of the city, it depends only on you.
Among the hotels located by the beach, you can choose, for example, the luxurious 5* Gran Hotel Miramar GL. You can enjoy breakfast by the pool, and the views from the roof terrace. If you are traveling with children, you will certainly be pleasantly surprised by the children's pool or the seasonal mini club.
The design 4* hotel Vincci Málaga is located on the coastal promenade by San Andreas beach. You can relax here, for example, in a stylish snack bar with an outdoor terrace.
If you are looking for cheaper accommodation not far from the beach, you can stay, for example, in the small, pleasant Hotel Boutique Villa Lorena by Charming Stay Adults Recommended. You can walk to the beach in 5 minutes. Right next to the hotel, you can relax by the pool, on the sun terrace or in the garden.
Historic center - If you prefer to stay in apartments with your own kitchen, Malaga Center Flat Luxury will be right for you. Some apartments have a terrace or balcony with a view of the city.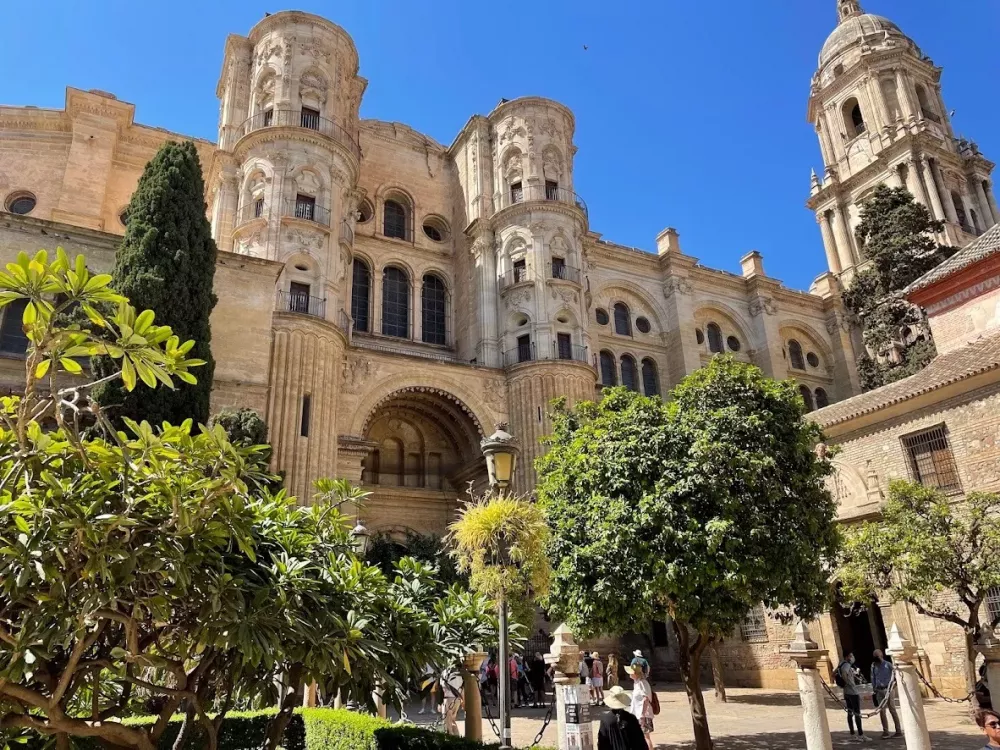 If you are looking for modern accommodation in the historic center, try Exe Málaga Museos. This modern 3* hotel not far from the cathedral offers a seasonal rooftop pool or sun terrace.
Cheaper accommodation outside the center is offered, for example, by the Residencia Universitaria Campus Málaga student dormitory. In addition to a saltwater pool, they also have a fitness center or a restaurant. Breakfast is also served here.
On the contrary, you can stay in the TOC Hostel Malaga right in the center. The hostel offers breakfast, other meals can be prepared in the shared kitchen. At the reception, they can arrange for you to rent a bike or a car or organize trips around the area.
For a complete offer of accommodation in Malaga, we recommend using A-HOTEL.com. You can also use Booking.com offer for Malaga.
Tapas – the tradition of these small portions of food is said to originate from Malaga. Therefore, here you will find a wide variety of these small dishes, served to drink. Among the most common are jamón (ham), queso (cheese), aceitunas (olives) and other goodies.
Pescaíto frito - fried fish, such as sardines and other small fish, sometimes also shrimp or squid. It is usually served as a snack or appetizer.
Espetos - traditional grilled fish, especially sardines. The fish are skewered on bamboo or metal skewers and grilled over an open fire.
Gazpacho – a typical cold soup made of tomatoes, peppers, cucumbers, onions, olive oil, vinegar and garlic. This refreshing dish is perfect for hot summer days.
Porra Antequerana - cold tomato soup, similar to gazpacho. Because dry bread is added to it, it has a thicker consistency and is sometimes served not as a soup but as a tapas.
Paella - although it originates from Valencia, paella is also very popular in Malaga. This traditional Spanish dish is made with rice, vegetables, chicken, fish or seafood and spices.
Vino de Malaga - sweet wine made from Moscatel or Pedro Ximénez grapes. This dessert wine is a local specialty.
Tinto de Verano - a refreshing drink made by mixing red wine with sparkling lemonade or soda.
Churros - sweet dessert. Fried churros are dipped in chocolate or caramel or served with hot chocolate or coffee.
Malaga has a rich history. It is worth spending time walking through the historic center. Visit the famous Plaza de la Merced, where the famous painter Pablo Picasso was born. Don't miss the ancient fortress of Alcazaba and the nearby Gibralfaro Castle. Both places offer a wonderful view of the city.
If you like art, don't miss the Pablo Picasso Museum, which houses the largest collection of works by this famous painter. Other interesting exhibitions of modern art are offered by the Centro de Arte Contemporaneo.
Plan an afternoon stroll in Málaga Park (Parque de Málaga), which offers a peaceful environment and a green corner in the center of the city. Or relax on Malagueta Beach, Malaga's most famous beach. Here you can enjoy sunbathing, water sports or just a walk along the waterfront.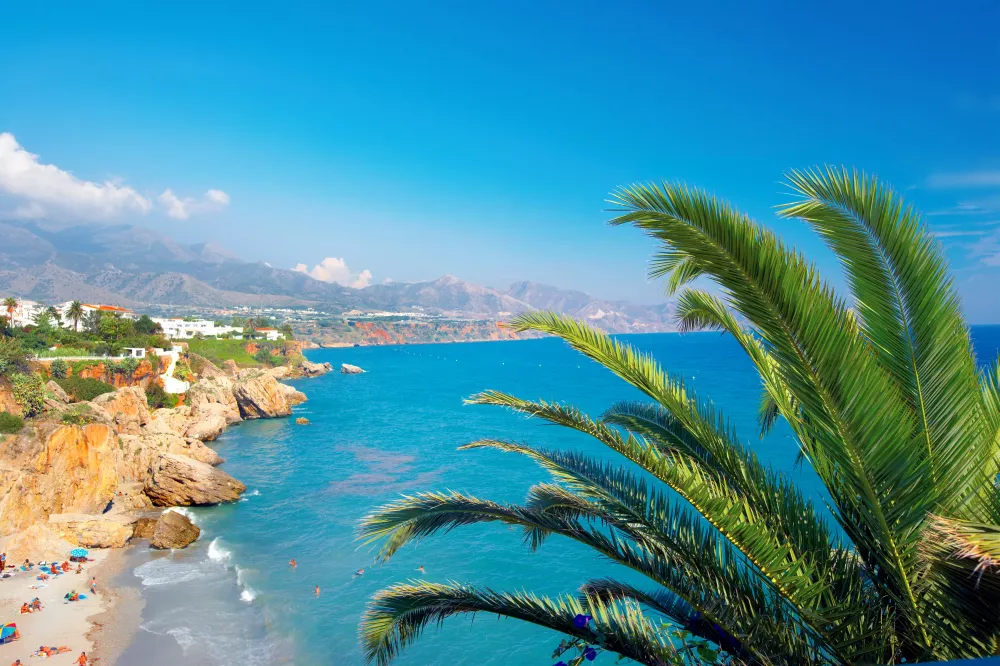 Visit local markets such as the Mercado Central de Atarazanas for fresh fruit, vegetables, fish and other specialties.
Enjoy local gastronomy in restaurants and tapas bars.
You can explore the city comfortably, for example, using the Hop-on Hop-off tourist bus, which will take you to the main tourist spots in Malaga.
If you have time, take a trip to nearby villages, such as Ronda, famous for its breathtaking cliffs and historic bridge.
Málaga is located in the Mediterranean subtropical zone. This makes the winters mild and the summers pleasantly warm, perfect for a beach holiday. The sun shines here more than 300 days a year. Rain appears a maximum of 50 times a year. Average summer temperatures stay around 32°C and winter temperatures do not drop below 17°C.
Due to its location on the coast and constant gentle winds from the sea, the summer heat can easily be weathered in and around the city of Málaga. Air humidity is around 58% in summer - thanks to this, you feel comfortable even at high temperatures.
Sea temperature - temperatures suitable for swimming (higher than 20°C) can be enjoyed in Malaga from mid-June to early October. Hardy people swim here even in the winter months, when the water temperature is around 17°C.
Pablo Picasso (1881-1973) - one of the most important artists of the 20th century, the founder of cubism. He painted many famous works, such as the painting "Girl with a guitar." He was born on October 25, 1881 in Malaga.
Antonio Banderas (*1960) - famous Spanish actor. He became famous for his roles in the films Zorro and Desperado. He was born on August 10, 1960 in Malaga.
María Victoria Atencia (*1931) - an important Spanish poet and writer. She has won many awards for her literary work. She was born on October 28, 1931 in Malaga.
Pablo Alborán (*1989) - Spanish singer and lyricist. He gained great popularity through his music and songs such as "Solamente Tú" and "Por Fin." He was born on May 31, 1989 in Malaga.
Andrés Mérida (*1971) - famous Spanish fashion designer. His work is recognized internationally. He was born in 1971 in Malaga.
Manuel Alcántara (1928-2019) - famous Spanish poet and journalist. He has won many literary awards for his poems and journalistic work. He was born on January 10, 1928 in Malaga.
In the old kingdom in the south of the land of Spain,
Malaga flourished, history gave it the keys,
A city on the coast where the sun shines forever
History is stuck here, life stories are brewing.
In the past the ancients, once the Phoenicians,
They built settlements here, sowed their dreams here,
Then the Romans, the glow of Malaga spilled,
They brought their culture, their conquering power.
Visigoths and Moors left traces here,
Towers and fortresses, history accompanies us,
Arab gardens, the fragrance of flowers wafts,
In Málaga, the past, beautiful and soft as silk.
Medieval Malaga, shining with wealth,
Trade and art, people rejoiced,
Glory and prosperity, times not forgotten,
In the writing of Malaga, the books testify to us how the times passed.
In the renaissance, the artistic fire ignited,
Picasso was born, whose work sparkles,
His paintings and sculptures, the expression of art great,
Malaga embraced him, brought her taste to his heart.
History of Malaga, memories that still smolder,
Stories of aging walls, secrets marry,
From every brick, street, church and square,
I feel history flowing, in the heart of Málaga connections.
So with respect to the past and to the roots,
Malaga, your history gives us strength again,
Famous, beautiful cities, you carry light in your soul,
In the heart of your memories, the history of the eternal trot.
For a complete offer of accommodation in Malaga, we recommend using A-HOTEL.com. You can also use Booking.com offer for Malaga.