Seville travel guide
Monuments and culture - Cathedral, Royal Palace, Archive, Defense Tower and other beautiful monuments in Seville.
Accommodation - Here you will find tips for tried-and-tested accommodation, whether you want to live with a view of the cathedral or want to have a swimming pool in a hotel or guesthouse.
Food and drink - Gastronomy in Seville wonderfully mixes Spanish and Arabic cuisine. In the article you will read which dishes you should not miss.
Practical advice - When to visit Seville to attend the biggest local festival, the Feria de Abril, and other tips to make the most of your visit.
Famous people - Famous painters, writer, footballer or even the fictional character Carmen linked to Seville.
Weather - When does it rain in Seville, when does the sun shine, and when is the most pleasant weather to visit.
AI poem - And what did artificial intelligence write about Sevilla?
Seville, the capital of the Andalusia region, is located in southern Spain. It is the fourth largest city in Spain. It has a rich history and cultural heritage.
The history of Seville dates back to the time of ancient Rome. During the Middle Ages, it was under the rule of the Muslim Moors, which influenced its architecture and culture. It later became an important center for trade with the New World.
In Seville you will find many historical and cultural monuments. Among the most famous are the Alcázar, a royal palace in the Andalusian style, the Cathedral of Saint Salvator with the Giralda, the iconic bell tower, and the Archivo General de Indias, an archive of documents related to the Spanish colonial era.
Seville is also famous for its various festivals. The most famous is Semana Santa (Holy Week), which takes place before Easter and includes religious processions and richly decorated parades. Another important festival is the Feria de Abril, a traditional Andalusian fair with flamenco, horses and traditional dresses.
Seville is considered the birthplace of flamenco, a traditional Spanish dance and music. The city offers many places to see authentic flamenco performances and even schools to study this passionate art form.
Seville has a Mediterranean climate with hot, dry summers and mild winters. Summer temperatures can reach over 40°C, while in winter they hover around 15-20°C.
In 1992, Seville hosted the World Expo '92, which attracted millions of visitors. They built a number of important buildings for the event, including the iconic Hotel Alfonso XIII or the Puente del Alamillo bridge.
Seville, a fascinating city that connects the past with the present, is full of vibrant culture, art, excellent gastronomy and warm Spanish hospitality. This makes it a popular destination for tourists from all over the world.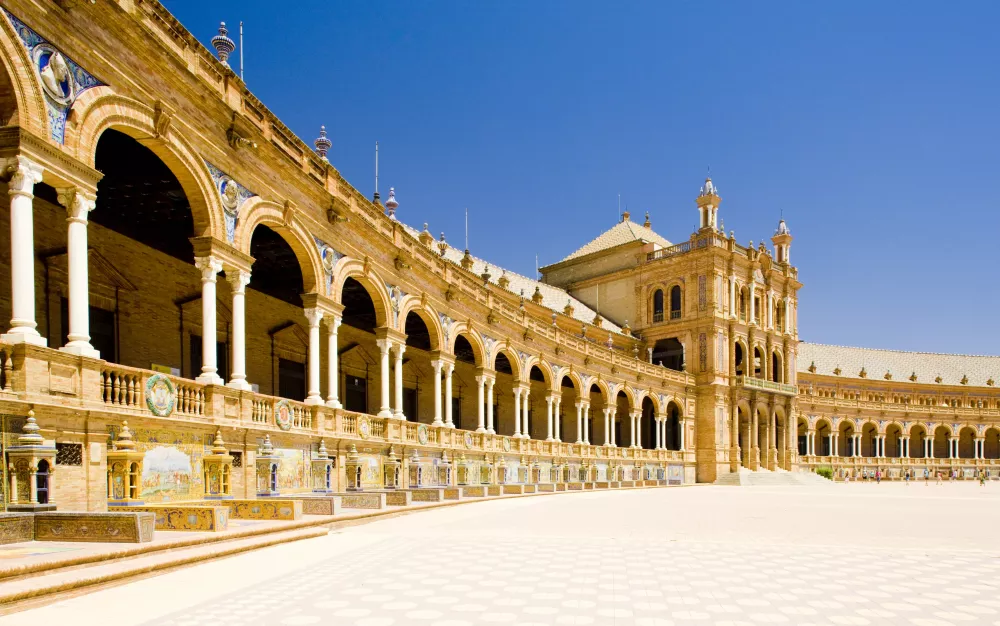 Seville Cathedral (Catedral de Sevilla) - one of the largest Gothic cathedrals in the world. Inside is the tomb of Christopher Columbus. Adjacent to it is the famous Giralda, a former Moorish minaret tower that now serves as a bell tower.
Reales Alcázares - Royal Palace that combines medieval, Renaissance and Mudejar architecture. It was famous for its beautiful gardens, ornate courtyards and beautiful rooms. It was originally a Moorish fortress.
Archivo General de Indias - historical archive that contains a large number of documents relating to the Spanish colonial era, including important information about the discovery of the Americas. It was founded by King Charles III. in 1785.
Metropol Parasol - a modern wooden structure, also known as Las Setas (The Mushrooms). It offers a magnificent view of the city and is one of the largest wooden structures in the world. They built it in 2011 as a special parasol over Encarnación Square.
Plaza de España - a monumental square built for the Ibero-American Exposition in 1929. It is famous for its magnificent ceramic walls, canals and bridges. Baroque, Renaissance and Moorish building elements are mixed here. It is surrounded by María Luisa Park. Scenes from the famous Star Wars movie were shot here.
Torre del Oro - an old defensive dodecagonal tower from the beginning of the 13th century, which served as part of the city's fortifications. In the Middle Ages it functioned as a prison, today it houses the Maritime History Museum, which documents Seville's relationship with the Guadalquivir River and the sea.
These monuments represent only a small part of what you can discover in Seville. The city is full of other historical buildings, museums, picturesque streets and charming atmosphere.
Seville has a rich nightlife. Therefore, if you are a weak sleeper, look for accommodation in a quieter street, or with windows facing the yard. In the summer, when it can be up to 40 degrees in Seville, don't forget to find out if the accommodation you have chosen has air conditioning. As for the offer itself - it is very wide (over 3000 accommodation capacities) - from hostels and apartments to boarding houses an hotels. Especially in the Santa Cruz district, you will find a lot of small guesthouses at reasonable prices with a unique homely atmosphere.
Real luxury will be offered by the 5* hotel Eurostars Torre Sevilla, which you will find on the upper floors of a skyscraper, the tallest building in all of Andalusia. In addition to the breathtaking views, you can enjoy a fully equipped wellness center or a restaurant with an incredible view of the city.
On the terrace of the Joya del Casco Boutique Hotel by Shiadu, you can enjoy not only an amazing view of the cathedral, but also an outdoor pool.
The elegant 4* Hotel Posada del Lucero can be found right in the historical zone of the city in a building from the 16th century. History breathes here - there is a typical courtyard with columns and arches and an outdoor pool.
Another pleasant 4* hotel abba Sevilla can be found right in the center near the cathedral. You can relax on the roof terrace with views and a circular pool.
The smaller guest house Lukanda Hospec right in the center of Seville, in addition to pleasant prices and a seasonal outdoor pool, also offers you a shared terrace and a kitchen where you can prepare, for example, breakfast.
Another affordable accommodation is offered by B&B Casa Alfareria 59, which you can find a short distance from the Triana Bridge. Breakfast is included in the room price. You can find a common kitchen in the inner courtyard.
You can book the cheapest accommodation during the summer at the student dormitory La Central Sevilla in the San Vicente district. The price including breakfast is around 40 EUR for a double air-conditioned room per night.
For a complete offer of accommodation in Seville, we recommend using A-HOTEL.com. You can also use Booking.com offer for Seville.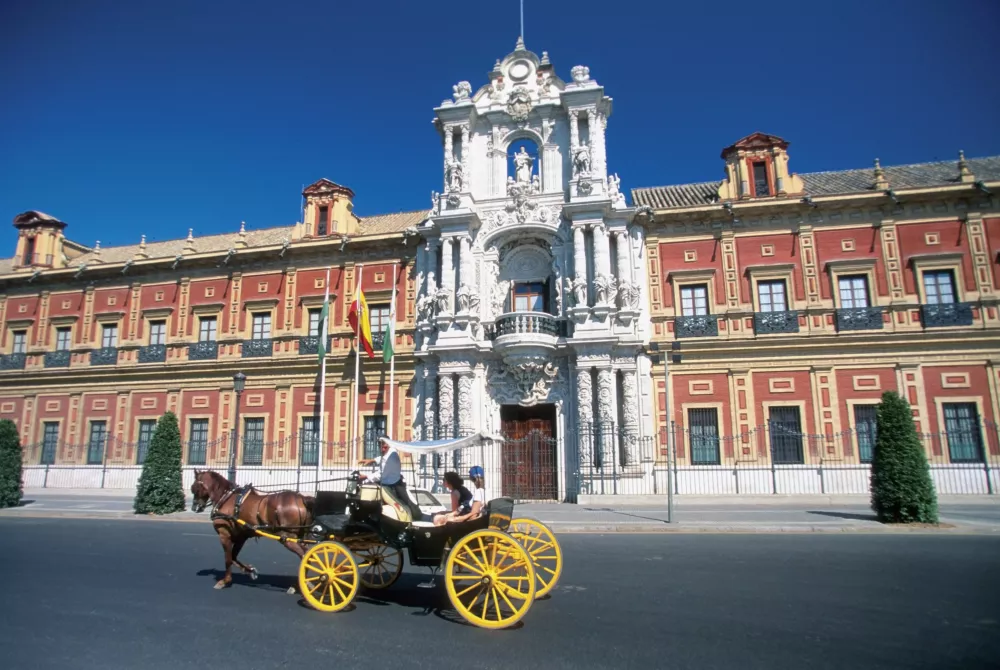 Gastronomy in Seville was strongly influenced by Arab cuisine, high temperatures and proximity to the sea.
Gazpacho – cold vegetable soup. This vitamin bomb refreshes and gives energy not only in the summer months. It is made from tomatoes, cucumbers, onions, garlic and peppers. It is seasoned with olive oil and salt. Some also add bread, vinegar, beetroot,...
Salmorejo – thick cold vegetable soup. This is a variation of gazpacho that is thickened with bread. It is often served with dried ham (jamón) and a boiled egg.
Fried fish (pescaíto frito) – small fish deep-fried in olive oil. You can taste them not only in the restaurant, but they will also sell them to you in a paper cone right on the street. A variation is also fried different types of seafood - for example, chipirones (small octopuses). It is served with slices of lemon or different sauces.
Codfish with tomatoes – another typical fish dish. It is cooked from salted cod that is soaked all day. It is served in a vegetable sauce of tomatoes and peppers flavored with garlic and onions.
Beef tail (rabo de toro) – oxtail pickled in wine with garlic and onions. It is most often served with bread.
Garbanzos con espinacas - and finally one vegetarian dish from Seville. You cook it from spinach and chickpeas. which you stew with garlic, olive oil and spices.
Enjoy your meal :)
Manzanilla - Spanish dry sherry that comes from the town of Sanlúcar de Barrameda near Seville. This bright, refreshing wine is great as an aperitif and is often served with olives or seafood.
Rebujito - a traditional Andalusian drink, popular especially during spring festivals, such as the Feria de Abril. It is a mixture of sherry (often manzanilla) and lemonade or mineral water.
The best time to visit Seville is during the spring (March to May) and autumn (September to November) months. These months offer pleasant weather and fewer tourists. During the summer months, it is often so hot that even local residents who do not have to work go outside the city. If you still go to Seville in the summer, prepare suitable clothes, an umbrella and plenty of water. The locals do not allow fans.
Allow at least 2 to 3 days to visit Seville to give yourself time to explore the main sights and sample the local cuisine.
Explore the historic center - Seville has a rich history and beautiful monuments. Don't forget to visit the Cathedral of Santa María de la Sede, Reales Alcázares (Royal Palace) and Giralda (Observation Tower). Walk through the narrow streets of the city and discover its charm. Seville is also known for its beautiful parks and gardens. Visit the Parque de María Luisa around the Plaza de España. Also take a walk along the banks of the Guadalquivir River. Enjoy a walk along the promenade, which offers a wonderful view of Seville. You can also take a boat sightseeing cruise on the river.
In addition to the monuments, you will also find bars and discotheques open during the day. So you can immerse yourself in the vortex of nightlife here even during the day.
Enjoy flamenco - flamenco, a traditional Spanish dance, originates from Seville. Visit a flamenco show or sign up for flamenco lessons and enjoy the authentic Andalusian atmosphere. You can also learn to play the castanets, a traditional flamenco instrument. Similar to flamenco is also the local folkloric dance sevillanas, which is danced in pairs.
Public transport - Seville has a well-functioning public transport system, including the metro, buses and trams. This way you can comfortably reach all parts of the city.
Feria de Abril – Seville's most famous festival. This "April market" takes place for one week in April. The locals put on traditional colorful clothes, prepare harnesses for their horses and set off into the vortex of folklore. Controversial bullfights are also held every afternoon during the annual market.
Seville is located in the Mediterranean zone, not far from the coast. In winter, it is a bit colder here than at the coast, and in summer you will be really warm here. In the sultry and hot summer, temperatures regularly rise to 35°C during the day, and do not drop below 20°C at night.
It rains most often here in March and April.
Winter daytime temperatures hover around 15 °C, so if you don't mind a greater chance of rain, you can discover the beauty of Seville even in winter.
The best months to visit this lively city are May, June and September.
Bartolomé Esteban Murillo (1917 – 1682) - an important Spanish Baroque painter. He was born in Seville and worked here all his life. His paintings often depict religious themes, as well as women and children.
Diego Velázquez (1599 - 1660) - another important Spanish painter, representative of the high Baroque. He was born in Seville and worked as the chief painter at the court of King Philip IV. Velázquez is considered one of the greatest painters in Spanish history. He was especially famous for his portraits of the royal family.
Antonio Machado (1875 - 1939) - famous Spanish poet and writer born in Seville. His poems are profound and often deal with themes such as love, death and Spanish identity. He belongs to the representatives of "Generation 98".
Rafael Gordillo Vazquez (1957) - former Spanish footballer. In addition to Sevilla, he also played in Real Madrid, with whom he won the UEFA Cup (1985/86). He is considered one of the best Spanish defenders of his time.
Carmen - fictional character from the opera "Carmen" by George Bizet. The story of Carmen takes place in Seville. This opera is one of the most famous and most performed operas in the world.
In ancient Seville, where the past breathes,
history unfolded like a living tree,
established the roots of distant prehistoric times,
and floated on the waves of time, never to be lost.
Phoenician ships sailed up the Guadalquivir,
inhabited the shores, brought new life,
and the Roman stones came to the city,
they founded the forum and decorated the monuments.
Visigoths resided here, wore crowns,
and after their accession came Islam in captivity,
Moors with culture, art and faith,
They pampered the Alhambra of Seville.
But the Reconquista bloomed with victory,
the crusaders brought September, they celebrated freedom,
and the Alcázar turned into a royal hall,
where the magical space was materialized by history.
Overseas discoveries emanated from the port,
Columbus and Magellan opened the door to the world,
wealth and cultural exchange expanded,
Seville announced itself to the world with gold and spices.
The city sparkled in baroque brilliance,
great churches and squares stirred,
and artists such as Velázquez and Murillo,
they brought glory to Seville with their championships.
Today Seville grows in the sun and in the hearts of the people,
in Feria and Flamengo, life is celebrated with passion,
history is alive here as if it were right now
and Seville will remain an eternal treasure of our memory.
For a complete offer of accommodation in Seville, we recommend using A-HOTEL.com. You can also use Booking.com offer for Seville.