Valencia travel guide
Monuments and culture - interesting information about the modern part of Valencia, Ciudad de la Artes, as well as the historic center of the city.
Accommodation - tips for accommodation in the historic part of the city and by the beach, from luxury hotels to apartments and hostels or a student dormitory.
Food and drink - in this section you will learn more not only about the most famous Valencian dish paella, you will find out, for example, what fideua or bunyols are...
Practical advice - did you know that you can walk the former Formula 1 circuit right in the city? Here you can also read advice about the beaches of the old and modern town,...
Famous people - well-known personalities associated with Valencia such as Vicente Blasco Ibáñez,...
Weather - When does it rain and when does the sun shine in Valencia? What are the temperatures like in winter?
AI poem - what verses about valencia did the artificial intelligence come up with.
Valencia, a beautiful Spanish city located in the east of the country, on the coast of the Mediterranean Sea, is the capital of the province of the same name and the autonomous community of Valencia. The city is famous for its rich history, culture and architecture.
You will find many architectural treasures in Valencia. The most famous of these is the Ciudad de las Artes y las Ciencias (City of Arts and Sciences), a futuristic complex designed by architect Santiago Calatrava. This complex includes impressive buildings such as L'Oceanogràfic (Europe's largest oceanarium), L'Hemisfèric (planetarium and IMAX cinema) and Palau de les Arts Reina Sofia (opera house).
The largest port in Spain and one of the largest in the entire Mediterranean can be found in Valencia. It is an important center of trade and a port for the export and import of goods.
Valencia plays a significant role in education - you will find several important universities here, led by UPV (Universidad Poliecnica de Valencia).
Among other things, Valencia is famous for its excellent gastronomy. For example, the famous rice dish paella comes from here. Local cuisine often features fresh seafood and fruit.
Every year in March, the famous Las Fallas festival takes place in Valencia. During the festival, monumental sculptures of paper, wood and plastic called fallas are erected in the city. These effigies are then ceremoniously burned, symbolizing the end of winter and the welcome of spring.
In Valencia, you can swim on one of several large beaches. The most famous is Playa de la Malvarrosa with its white sand.
Valencia is part of the Community of Valencia, where Valencian is spoken in addition to Spanish. The Valencian language (one of the official languages in Valencia) sounds similar to Catalan.
Ciudad de las Artes y las Ciencias (City of Arts and Sciences) - a modern complex of architectural and cultural facilities. It contains, among others, the Palace of Arts and Sciences, which includes an art museum, a planetarium and an interactive science museum. The white buildings are nicely complemented by the greenery of palm trees and other heat-loving plants.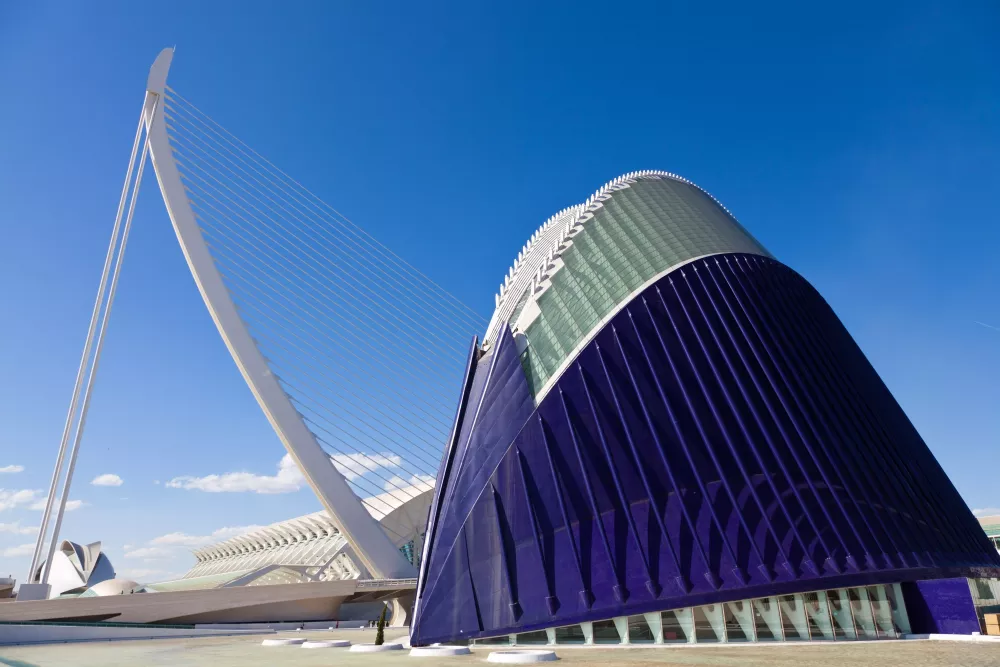 Cathedral of the Virgin Mary (Catedral de Santa María de Valencia) - Gothic cathedral from the 13th century. You will find it in the heart of the historic city center on Plaza de la Reina. Next to the cathedral stands the octagonal bell tower Torre de Micalet (octagonal according to the Crown of Aragon) from where you can enjoy the view and the old town.
La Lonja de la Seda – a beautiful Gothic building from the 15th century. It originally served as a trading center for trading silk and other commodities brought from overseas. In 1996, it was listed as a UNESCO World Heritage Site.
Torres de Serranos and Torres de Quart - Gothic gates. In the Middle Ages, these two gates served to defend the city as part of the city walls. Today they are iconic symbols of the city. You can climb the Torres de Serrano and enjoy a beautiful view of the city and Turia Park.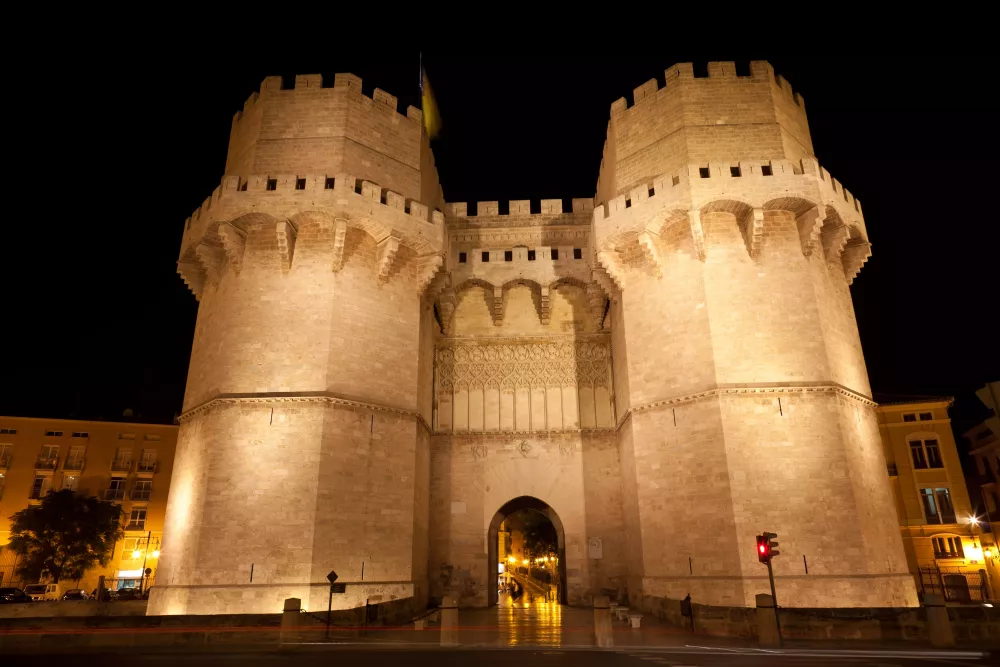 Mercado Central - traditional marketplace with modernist architecture. It offers a wide variety of fresh fruits, vegetables, seafood and other foods. It is one of the largest and oldest markets in Europe.
L'Oceanogràfic - the largest oceanarium in Europe. You can visit it in Ciudad de las Artes y las Ciencias and see different types of marine animals including sharks. The oceanarium was opened in 2003. It covers an area of 110,000 square meters and can hold an incredible 42 million liters of water!
Turia Park - the bed of the former river winds around the historic center of the city - in the 20th century, the river was redirected due to large floods and a beautiful park was created in the bed (opened in 1986), where you can not only rest and relax, but the locals also come here for sports.
In Valencia, as the 3rd largest city in Spain, you will find over 1700 accommodation capacities. You can choose from a wide range of hotels, apartments, villas or guesthouses.
Attractive hotels with a high standard of accommodation and comfortable services are located in the historic core of the city near monuments such as the Valencia Cathedral or the City Hall.
Another sought-after location is accommodation close to Las Arenas beach.
As in any larger city, here you can also find representatives of hotels of well-known global chains, such as the AC Hotel Colón Valencia by Marriott, located near the historic center of the city.
Among the city's most sought-after and best-rated hotels is the luxurious complex with direct access to Las Arenas Beach and its own Las Arenas Balneario Resort. If you want luxury in the historic part of the city, then Melia Plaza Valencia or Myr Palacio Vallier will be right for you.
If you prefer apartments with their own kitchen, the Soho Valencia aparthotel offers 22 apartments near the historic city center and close to tram and bus stops. Other accommodation in apartments near Turia Park with private parking and a seasonal pool is offered by Apartamentos Core Suites Valencia.
If you are looking for a cheaper form of accommodation, you will definitely be interested in the smaller bed and breakfast L'Esplai Valencia, which is located in the historic center of the city.
Even cheaper, you can stay in a shared room in the pleasant Cantagua hostel, which you can find near the historic center. All rooms here have a terrace.
During the summer holidays, you can stay, for example, in a studio in the student dormitories, Residencia Universitaria Damia Bonet, from where you can walk to Malva Rosa beach.
For a complete offer of accommodation in Valencia, we recommend using A-HOTEL.com.
You can also use Booking.com offer for Valencia.
Paella – in the first place in the list of typical dishes from Valencia, we have to mention paella. This is one of the most famous Spanish dishes. Paella Valenciana is prepared with rice, chicken, rabbit, vegetables and saffron. You will surely enjoy this dish full of flavor and color.
Fideuá - a dish inspired by paella. But instead of rice, short noodles are used in it. This very tasty dish is often prepared with seafood or fish.
All i Pebre - a literal translation from Valencian is "garlic and pepper". They prepare this dish from sturgeon, potatoes, garlic, peppers... You will surely enjoy this strong fish soup, typical of the Valencia region.
Bunyols - Valencian yeast balls, something like doughnuts. They can be sweet or salty. They usually have icing or are sprinkled with sugar. You can meet them as a dessert served with coffee.
Horchata de Chufa - a traditional Valencian drink made from chufa or tiger nuts. Tiger nuts are called small tubers of edible saffron. Horchata is sweet and refreshing, perfect for drinking during warm summer days.
Beaches – Valencia is famous for its beautiful beaches such as Malvarrosa and Las Arenas. Take a walk along the boardwalk, exercise with a view of the sea at one of the many stops along the boardwalk. Enjoy relaxing on the sand. In the summer, the beaches can be quite full, so you better come early in the morning to secure a good spot.
Ciudad de las Artes y las Ciencias - This modern complex is one of the most famous tourist attractions in Valencia. Do not miss a visit to the huge Oceanografica aquarium, walk around the futuristic buildings and beautiful gardens.
Old Town - The historic center of Valencia, known as El Carmen, is also worth a visit. In contrast to the previous modern complex, here you will find narrow streets, historical buildings such as the Cathedral of Santa Maria and the Torres de Quart, many picturesque cafes, restaurants and shops.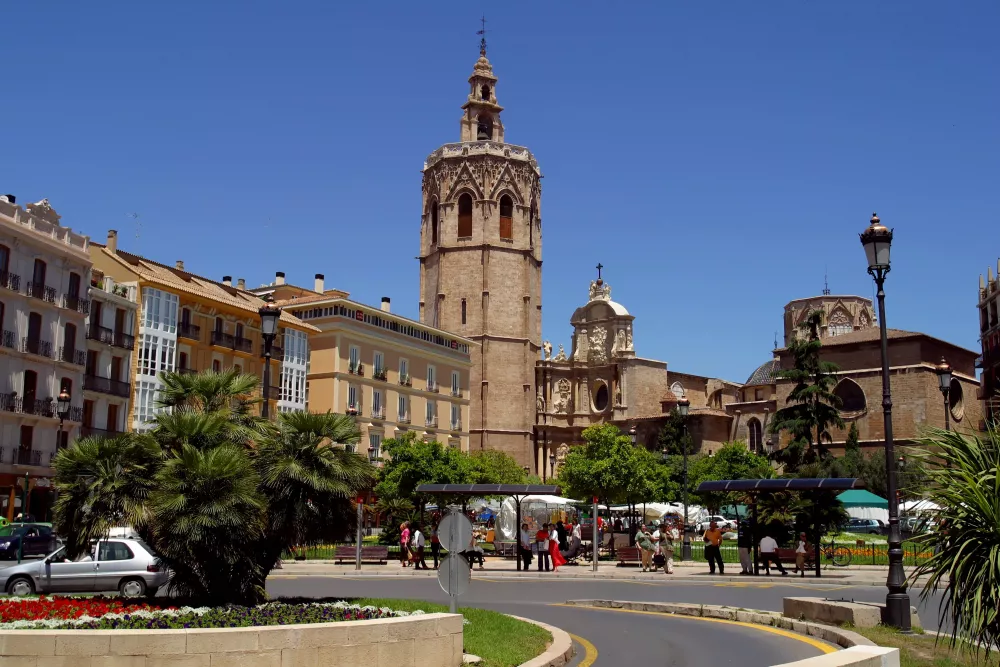 Formula 1 circuit - If you are a fan of fast sports, don't miss a walk around the former F1 race circuit in the harbor. The last race was held here in 2012 and was won by Fernando Alonso.
L'Albufera - If you prefer nature, visit the L'Albufera Natural Park, located near Valencia to the south. You can take a boat ride, watch birds or taste a traditional Valencian paella.
Food – Around noon, a local restaurant offers a Menu del día (menu of the day), where for around 10 EUR you get an appetizer, a main course, a drink and usually a dessert and a coffee. In the evening, the restaurant's prices become noticeably higher and you can only choose from the permanent offer.
Siesta - Pay attention to the closing time after lunch - most shops, banks, restaurants and the like close after lunch for about 3 hours (approx. 14:00-17:00) and the locals have a snack to recharge their energy for the evening or night life. ;)
Transport - in the center of Valencia and along the beach you can easily get around on foot. If you need to use public transport, the city has a well-functioning metro and bus network. Keep in mind that local buses tend to run less frequently during weekends and evenings.
Las Fallas Festival - The famous Las Fallas Festival takes place every year from March 15 to 19. During this festival, you can see stunning fireworks displays, traditional parades and fire sculptures all over the city. The largest sculptures are up to 30 meters high.
Tomatina – another special festival you can visit near Valencia in the town of Buñol. On the last Wednesday of August, trucks bring in overripe tomatoes, dump them in the middle of the city, and the tomato battle can begin. :) If you go here, be sure to bring a spare set of clothes and shoes. Don't wear flip-flops, they're easy to lose when you're wading through knee-deep tomato paste. There is a direct train from Valencia.
Valencia has a Mediterranean climate just like Barcelona. Thanks to this, it has beautiful sunny weather with pleasant temperatures.
In the summer in Valencia, it hardly rains, clear skies prevail and temperatures hover around 30° C. The sea breeze moderates the heat. Thanks to this, most tourists visit Valencia from May to October. From May to November the sea is over 20°C.
In autumn, it cools down, but the sun still shines, which is why tourists most like to go here for sightseeing tours in this period. Even in winter, temperatures do not drop below zero, but be careful to book accommodation with air conditioning or heating, as temperatures drop at night.
Joaquín Sorolla (1863-1923) - famous Spanish painter and landscape painter. He was born in Valencia. He painted in an impressionist style and worked significantly with light, which is why his style of work is called luminism. He mainly painted historical and mythological subjects, scenes from Spanish life...
Vicente Blasco Ibáñez (1867-1928) - a famous Spanish writer and playwright, but also a politician. In his native Valencia, they named not only an avenue but also a university campus after him.
Santiago Calatrava (1951) - architect and sculptor. He is among the world's elite designers. He designed several iconic buildings in Valencia, including the aforementioned City of Arts and Sciences (Ciudad de las Artes y las Ciencias).
Carmen Martínez-Bordiú (1951) - Spanish noblewoman and celebrity, associated with Valencia. She is the granddaughter of the dictator Francisco Franco and often appears in the media.
In the valley of the sun lies a jewel,
The city of Valencia, full of its pleasure.
Crowned with a famous orange fruit,
Where ancient culture comes alive with enthusiasm.
Gatehouse of history with fortified walls,
He has an engaging eye and eternal favor.
Medieval streets with winding roads,
Sky towers shine under the Spanish sun.
A triumphant parade of sounds and smells,
Las Fallas celebrates, fireworks due.
Smokes and lights brighten the night
Valencia always applauds this crazy move.
Loving beaches where the waves crash,
The fresh sea breeze shimmers pleasantly on your face.
Palm trees bend over the golden sand,
Stopping time, it's natural here.
City of Arts and Sciences, an architectural marvel,
Calatrava dreamed and elevated Valencia.
Modern sculptures touch the sky,
Inspiration flows here like the juice of life.
Valencia, land full of flavor and glory,
Paella and horchata warm the tongue.
A happy soul dances between culture and tradition,
Faces are smiling, joy is always present.
So get to know Valencia, where the magic is hidden,
Memories embrace you in every corner.
Immerse all your senses in this sunny land
And let Valencia fill your soul endlessly.
For a complete offer of accommodation in Valencia, we recommend using A-HOTEL.com. You can also use Booking.com offer for Valencia.